Compass Live Art Festival. (Leeds) Open call for 2020 (Nov 8th)
Rua Red Cafe Space (Dublin) Open call for cafe exhibitions (submitted. waiting to hear)
Dunlaoighre Lexicon (Dublin) Open Call for 2020 exhibitions (27th November)
Art and the Rural Imagination Conference (New Forest, Bournemouth) (4th December)
126 Gallery Christmas Market (Galway) (Dec 10/11)
My studio- open days pre xmas ASAP
Critical Moss Book Project (UK) (applied)
All the above is stuff I have applied for/am planning to apply for. I put this first into this post today as I have not posted for a while and it helps me visualise where I am at with submissions etc. Also as the First Fiday talk last week was a great experience and very successful relatively but afterwards I am back to normal working by myself again and that reality is submissions and planning, endless planning.
I got a response last friday from Clare Co Council about the Arts officer jobs I'd applied for. I didn't get either of them that I had applied for- one of which was not a surprise and the other no-one got, they have decided to divvy out the job between them in the arts office instead. Which begs the question why they put it out to tender! Anyway I knew myself I hadn't been successful as I hadn't heard back from them in a while. And tbh I had applied (and spent a considerable amount of time getting through the application) because of the potential of the luxury of having a wage again and for the contacts and experience I would hopefully get. Well I will just have to do this now by myself, as anticipated :) The easier road would have been to get a job like this and ensuingly have most of my free time taken up doing it, and that would have been ok, for a period of time. The harder (and less regularly waged) road is to keep on trucking with developing my practice. So be it!
I did my First Friday talk last Friday – I had made a slide show and was well ready, as is my perfectionist way of doing things. We had a group of about 30-35 attendees which was a good turn out, and Emma Houlihan, Curator, officiated things by introducing me and leading questions after. The group in attendance was a diverse one and I tried to take into account the varied demographic when speaking about the work. I ended up talking for nearly 2 hours, which was a complete surprise, then there were some comments and questions which brought it up to nearly 3 o clock, so it was good that people stayed that long to listen. There were a good few artists there and I hope to try and make contact with them again as it would only be a good thing to get to know some more artists around here. All in all it was successful and everyone got what they wanted from it so happy days.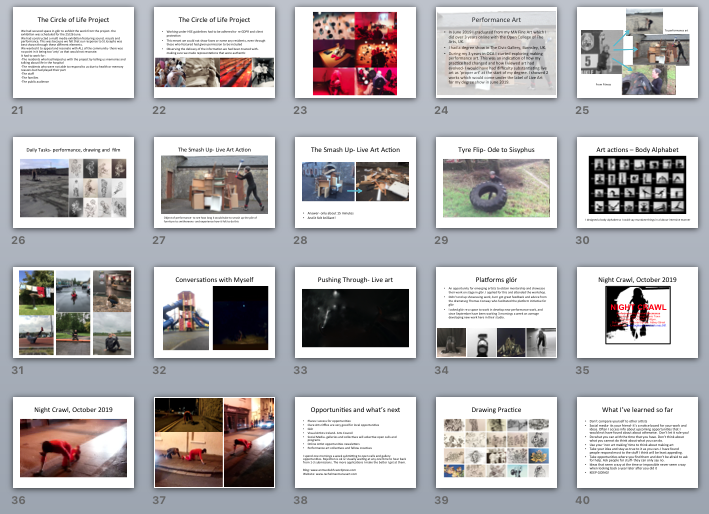 Re glór, I am going to be able to access the studio here on a weekly basis moving forward which is great, as it will be a way to continue to have a space in which to develop the live work. I am going to write more about where I am at with this in the next post. Now off to my messy studio to frame more drawings!