I am sat here reviewing the guidelines for applying for a visual arts bursary with the arts council. It is almost humorous how the very act of reading the guidelines gives me acute imposter syndrome. I then read over the feedback I got from the recent Covid 19 award application, which was just scores,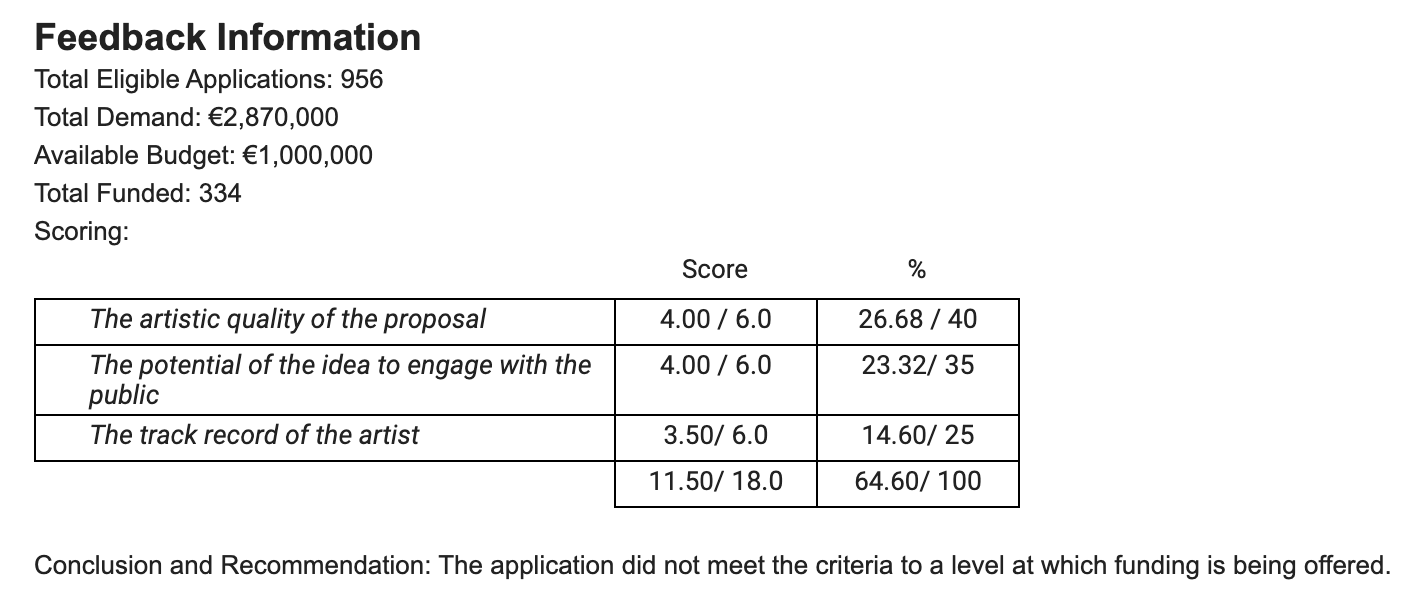 and the feedback for the first round of the bursary awards, from April 2020, which was more comprehensive (when I emailed and asked for it)
Artistic quality: The applicant's live art, performance, and drawing installations channel a variety of experiences. Her performance work is physically demanding and performed in various situations, including directly to the camera and public settings. She has developed a good series of prior projects. She is working in partnership with glór to create new work and develop her professional practice.
Award objectives/priorities: The applicant wishes to fully resolve her research and create a new body of work with two performances and also perform previous work across different towns in Ireland. The bursary would allow her to bring her work to a different and unique audience and document this work with a videographer. The application lacks effective detail about the thematic or rationale for this representation
Feasibility: The supporting letters and documentation demonstrate that it would be feasible to create new work. The support letter from glór details supports offering performance development space, mentoring and developing new engagement initiatives at the venue. Ultimately, the critical and thematic aspects of her artistic plan for this programme of new work are not developed to a high level.
Conclusion: The applicant's commitment to developing her work is evident. Documenting her work with a videographer would expand the potential of the work and create new opportunities. The proposal does not describe specific development plans that will develop and build on her current work and will document it to better effect. Arts Council support is not recommended.
Supporting material: The application includes a CV, artistic statement, a budget, 6-page document of images with details and three YouTube video links. Night Crawl is the most provocative here. Scroll to the end of the documentation to see the end. In Conversations with Myself, the first two performances spell phrases: 'If you find yourself' and the second spells 'Trying to work out'. The application also includes a letter of support from Orla Flanagan (glór) confirming mentoring and programming collaboration, and a letter of support from Thomas Conway to support her live practice.
So there is a new round of bursaries to apply for. But after thinking about it I think it is not a good use of my time. I am better off using that precious time to develop other income streams that have a higher likelihood of success. There are so many people applying for these bursaries. I am not hugely sure of how I can change my submission enough to say what they want to hear. I am still making performance art, mainly by myself. I don't have a list of influential art world gallery and curators who I can say I am working with as this is not true. I don't have huge plans of how I am going to make socially engaged art and have a gallery space ready and waiting to exhibit my work. The act of applying makes me feel depressed and reminds me that my ability to speak this language they request is limited. I called them and spoke to someone on their front desk who was nice in fairness, but he confirmed that they don't provide consultation services to help artists make submissions. He recommended I look up VAI who in fairness have a good section on making proposals.
But I still think I owe Patreon the same amount of investment of time to see if I can get this working for me. And ArtPal. If either of these were successful I could potentially yield an income stream. One that I would have conceived, created, and could command and control rather than trying to mould my projects around generic submission processes.
One other thing to note is that I have made most of the stuff I proposed funding for. I made INTBR Tasks 1-15. 16-20 are germinating in my head at present. I made pieces in response to my rejection letter for the Covid Fund; 'Suck/Blow' and I am working on new material right now, my WTF series and my Digital Collaboration project. Maybe I should make the application for three new funding just so the future rejection letter can inspire more work :)
So thats my next step- patreon and ArtPal. Besides the Arts Co submission deadline is not till 30th July so if I should change my mind I can.