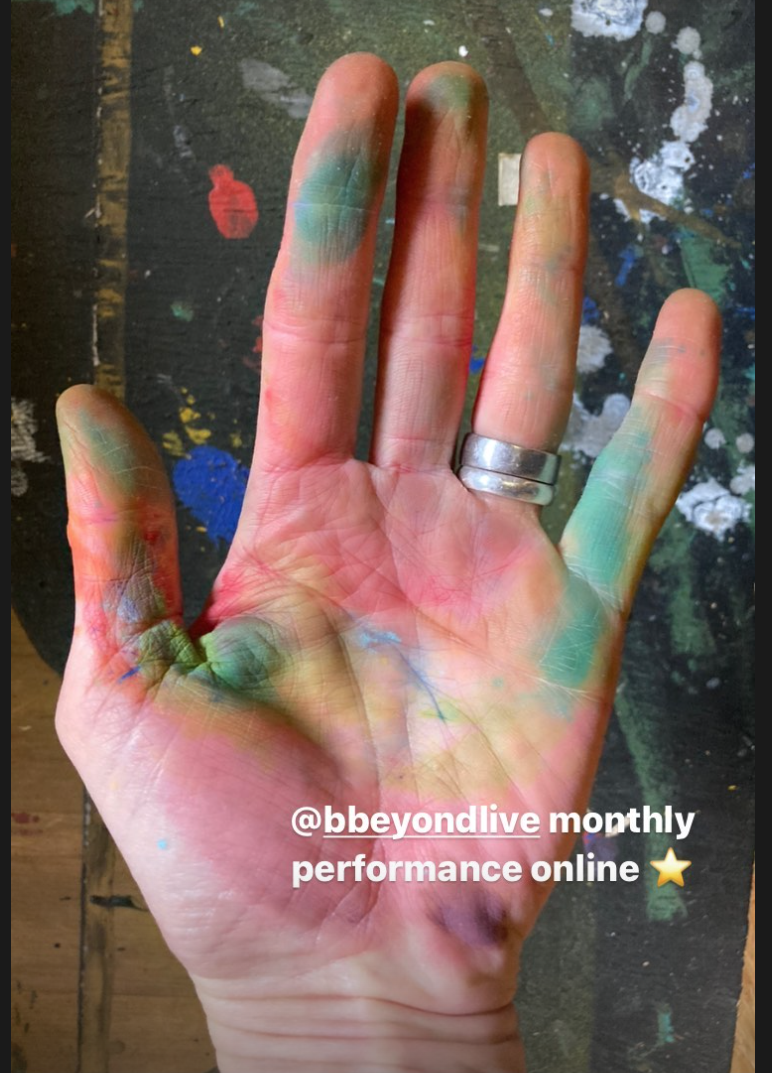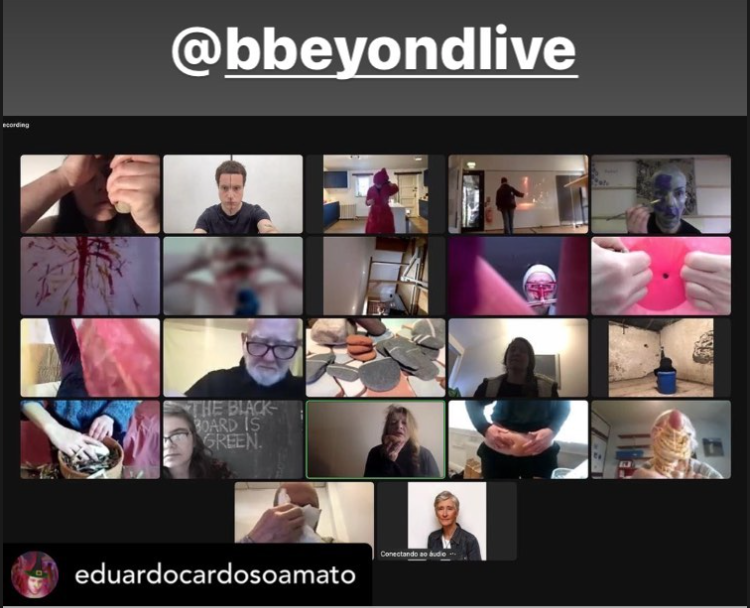 So the BBeyond Monthly performance was on today, online. I joined BBeyond last year in a bid to get more performance experience and to meet more performance artists. I have performed once so far with them live, last October in IMMA for the earth rising festival, and once before that in an online performance, and was featured in an online performance event they ran during lockdown also. I remembered about todays performance only this morning, and had to hastily realign plans so as to fit it in. I knew it was the only opportunity to do something for me today, as the rest of the day was taken up with kid stuff. I got to my studio in time and rushed about trying to set up. My efforts to erect a backdrop were fruitless in the short time I had, so I gave up and just cleared my back wall of drawings in a bid to create a blank backdrop. I had briefly planned that I would paint my face different colours and rub it off. I spent the hour painting my face the colours of the rainbow, one by one, and wiping them off again (with a packet of wipes I'd located in my painting crate, as purchased many months before by my erstwhile painting colleague (now estranged) Robert to aid us in our mural painting, to my faint disapproval, my thinking being that we shouldn't be using such throwaway products in our work. How the mighty and high minded, (me) fell! So, painting partner less, I can at now least avail of said unenvironmentally friendly wipes to scrub face paint off my mug.
Kind of the most interesting thing about the experience today was that I noticed as each colour of the rainbow was painted on and then wiped off, a pigment residue was remaining on my face, so that by the time the performance had finished and I had attempted to wipe the paint off, I was left with a decidedly un caucasian Irish skin hue, more of a greenish yellow blue, like a slowly fading bad bruise. As I used up each wipe I cast it to the floor, creating a small pile of multicoloured clouds. My studio is dimly lit and dark at the best of times, which was why I left thinking i'd done a reasonably decent job of cleaning my face, only to be met with plenty of double glances and head turns as i made my way through the usual damp streets of Ennis. It was only when I got into the car and glanced in the rearview mirror did I see how particularly green my face still was. It was almost alien like- I wish I'd taken a picture!
Anyway it was good to make a performative action for January, one must keep ones toes dipped in the water so to speak. It is so interesting how quickly I feel disconnected after a performative action, like how I would remember feeling after online sessions during my masters. Back then I would plug in online, see the familiar faces and hear them pontificate on etc, feel like I knew them and we would have exchanges and express opinions etc, and then the laptop shuts and your exit feels like you are physically removed from a metaphysical space, like the glass cab of the ski lift swiftly whooshing me up the mountain in Austria, you whoosh back to reality and the 'reality' you were just in feels a thousand miles away, and tiny and removed.