thinking about the effort and time required to apply for call outs (HUGE) weighed up against the potential for that time to be used in other ways (CONSIDERABLE) weighed up against the actual statistical chance of success in aforementioned call-outs.. (SMALL)
Of course I made a post about this, wanted to see what people said- got a lot of agreement.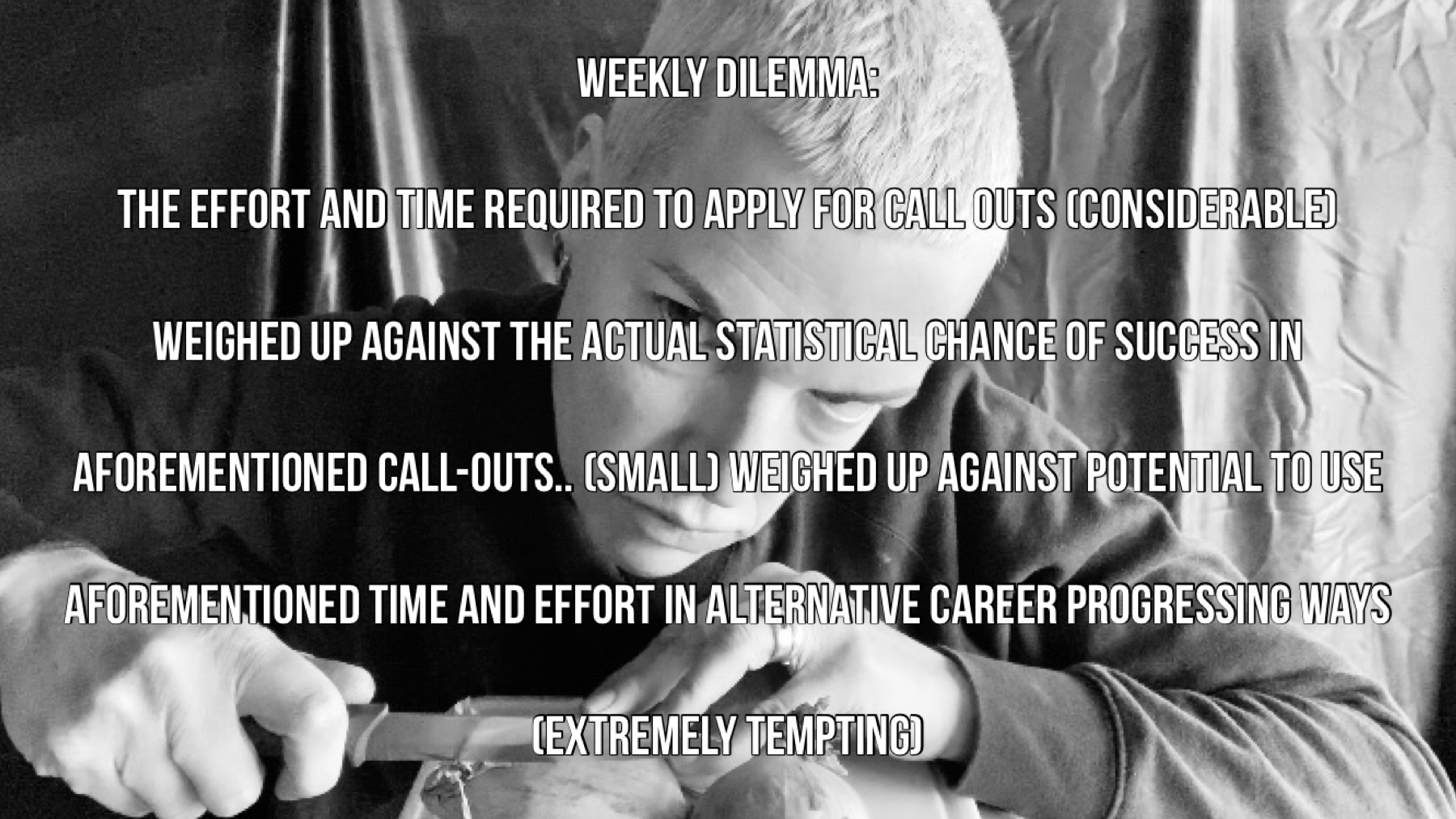 And straight after I got a letter telling me I had received €425 (€425??) of funding towards a project I applied for AGES ago… it was for Whelans quarry. To do more image making there and to talk to old employees of the quarry when it was up and running. €425 is better than nothing.
Also yesterday I applied for an educational training week, the 2021 Online Teacher-Artist Partnership CPD Summer Course and Residency Programme. I had to send a letter of application, a rejigged CV and examples of work. I got notification that it had been received as soon as I'd sent it which was nice. It would be genuinely fabulous to get this (but it will be hugely prescribed to as its an attractive package) and would really improve my skillset and I continue to get a lot out of any work I get to do with kids. I love how honest kids are and how they will soon let you now if they are bored by something you are proposing. Its like the best feedback you can get.
Also, Emergence art award, this is funded by Wexford Co Council. Worth €15,000. But I am not sure how much of this is actually paid out to you. I fit its criteria perfectly.
'Notably, the award is aimed at artists at the earlier stages of their careers or those re-engaging in their practice after a period of time or absence. However, we welcome interest from artists who may have previously created and publicly presented a modest body of independent works and are eager to progress in their professional and creative development.'
But everything I have applied for lately has been unbelievably oversubscribed, TULCA had over 600 applications, LiveWorks had more if I remember. And these were very, very time consuming projects to apply for. I need to weigh up the time it will take to apply for Emergence. If there was a way to apply for funding which had even a slightly higher statistical possibility of success then I need to do that. I need €2000 to make my land art performance series. How to get?
Go Fund Me?
Write to companies- Apple, and offer to come do a performance for them in exchange for funding?
Approach Clare Tourist Board?
In total what I want to make in the next 6 months:
Land Art Trio- Tide Map/ Field Crawl/ Mullaghmore Pilgrimage
And
Construct/Destruct
And
INTBR 15-20, hysterical strength, thinking about Clare Abbey for this: https://www.visitennis.com/do/clare-abbey/
Also considering how and where to make to make The Best Medicine (laughing Buddha)
I contacted a couple of the nice people I used to know in Apple to ask them who I might contact within the vast corporate metropolis that it is to find out about cultural bursaries etc. I hate asking for favours but I have only asked them for a name or email address, which I would certainly do it asked of me, and it's going to be necessary to get this done, and I have successfully raised funds before to get work made (hello MA Degree SHow 2019) So one of theme has come back to me so far with a name- happy days. I need to put together a proposal of what I need and what I will do in exchange: A clear cohesive package of what I planning to make, to send to prospective donators like Apple or Clare Tourism or Clare Enterprise Board who might contribute to my making fund. Possibly I should be going to planned sites for the works and taking photos there and possible doing mock ups of the performances? Also what is in it for them? How do I make it appealing? What can I do for them?
I updated my website and started the application for Emergence, the Wexford funding thing this morning. It's worth a shot. Last night I started work on a new painting of the kids doing their silly selfies to remind myself I am an artist and not a laptop technician which is what I feel like at the moment.