How do you decide what to do each day, do you have a schedule? I asked Carolin today, and she said no, I just come in and decide on the spot, I go around putting out lots of little fires before they become big ones. I liked this description a lot.
I was in the Armada Kitchen Garden today which is now a lot more salubrious than when I first visited a year ago. Carolin is the chief gardener there- who a year ago responded to a call out I made for working women in rural spaces. She now has 2 large poly tunnels on site, and even a toilet. The hotel did up a cottage on the site to be a luxury weekend staycation space and so the surrounds were spruced up too. She reckons If it wasn't for the cottage she still be just working in a field.
Today was super warm and sunny, no wind, an easy day to sit and draw.
Is brought more of my favourite brown banana paper to use, and coloured oil pastels. I was thinking the colour might be too distracting and take away from the lines. I did not set out to make nice drawings of scenery.. But It was ok, and I had time to do a bit of both.
I wanted to try and find a synchronicity between the crumply paper, the lines of the drawing and the colour. I wanted to spend time drawing the garden as this is her work, and she has made this garden. She is the garden.
I did some more motion based fast drawings observing her repetitive movements
Th first one is multiples of her building a poly tunnel. She moves around quickly and doesn't stay in one position for more than a second or two. I'd like the develop the poly tunnel one more.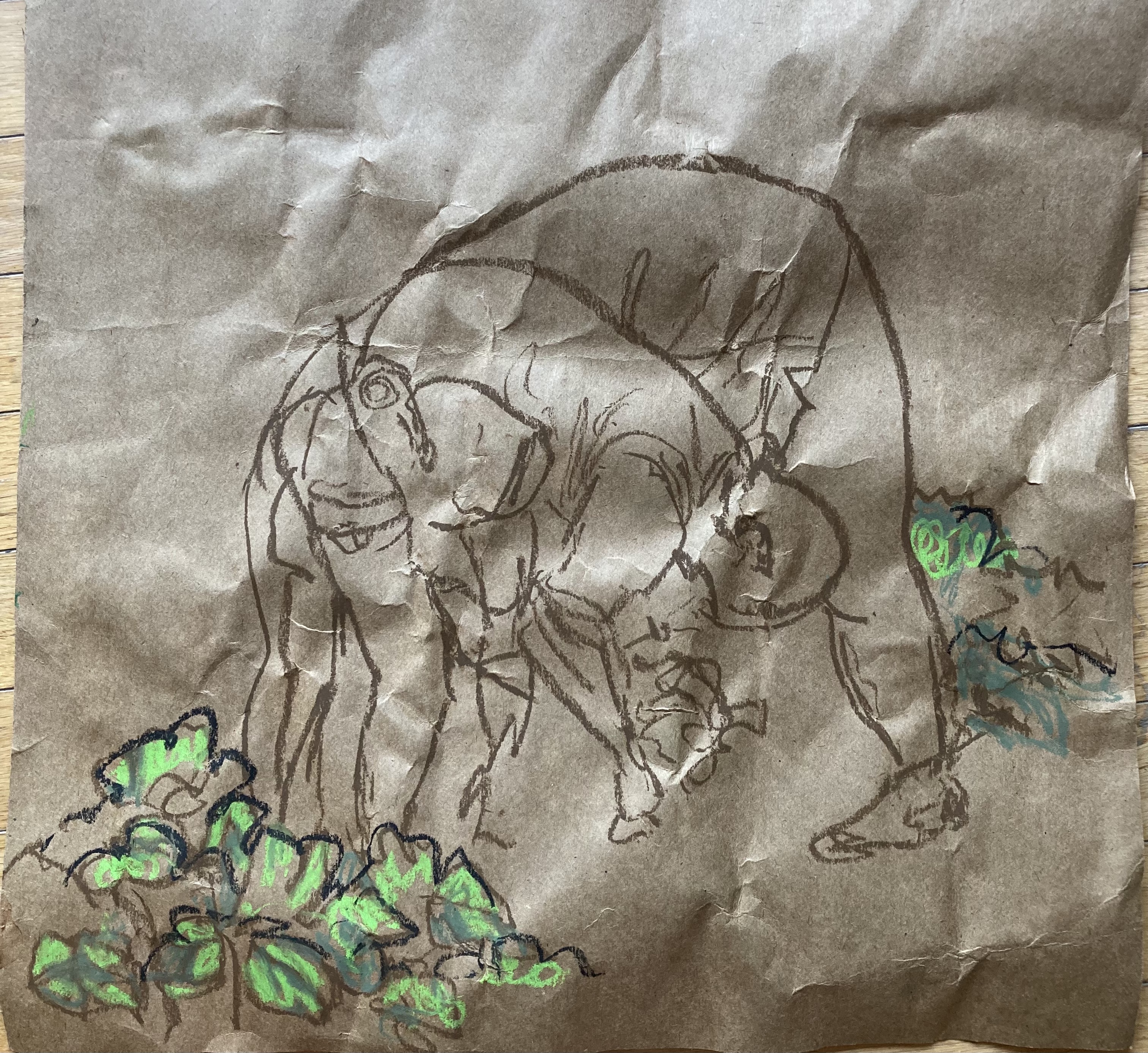 For some reason I like this one- the drawing above, the best.
I will look at these in the studio hopefully tomorrow and think about how they appear beside the images from the same venue, this time last year