Last Thursday night I performed with a Limerick based collective of artists at their 4rth Live art event, called Collective Evil IV. I had had a normal thursday with the usual schedule, so by the time I got into the car to leg it up to Limerick I was tired and a bit nervous. But I didn't have time to stress as I was late and by the time I had found a parking space I literally ran down to the venue, with 1/2 an hour to spare. They, Collective Evil, were a lovely bunch, mostly in the last year of college or recent graduates. Hence making me feel like a crumbling dinosaur. My problem, not theirs.
I had thought about what I was going to say, as in spell out, and how well it would work, as in how performative would it be to watch in real time? Luckily the night time club atmosphere, plus lighting, plus a metronome beat all helped. I had brought my metronome, but of course had left it in the car in my rush to get to the venue- so I asked the 'sound' sound and lighting guys if they could do a metronome like beat for me, which they were able to magic up for me. This really added to the atmoshere and gave an urgency and a sense of anticipation to the performance that would not have been there otherwise. It also really helped me rythmically, I found the beat punctuating my movements and helped me maintain a constant speed, which I wanted to do. I was happy with the fact that I remembered what I was going to say, more or less. I had planned to recte some poetry, namely an excerpt from Paradise Lost by John Milton, but this felt silly and affected, so instead I literally talked about my day.
Here is what I said, more or less anyway :)
So
my plan was to use
my body alphabet
to recite some poetry
Paradise Lost by John Milton
the bit when lucifer
gets kicked out of Heaven
But
I am too tired
so instead
I will tell you about my day
OK
school run
work
emails
more school run
kids homework
making dinner
cleaning up dinner
music class
speeding up the motorway
to get here
meeting you all
and now this
being here
you me us
celebrating
thankyou
Except when performed it would have read like this :)
So my plan was to use my body alphabet to recite some poetry Paradise Lost by John Milton the bit when Lucifer gets kicked out of Heaven but I am too tired so instead I will tell you about my day OK school run work emails more school run kids homework make dinner clean up dinner music class speeding up the motorway to get here meeting you all and now this being here you me us celebrating thankyou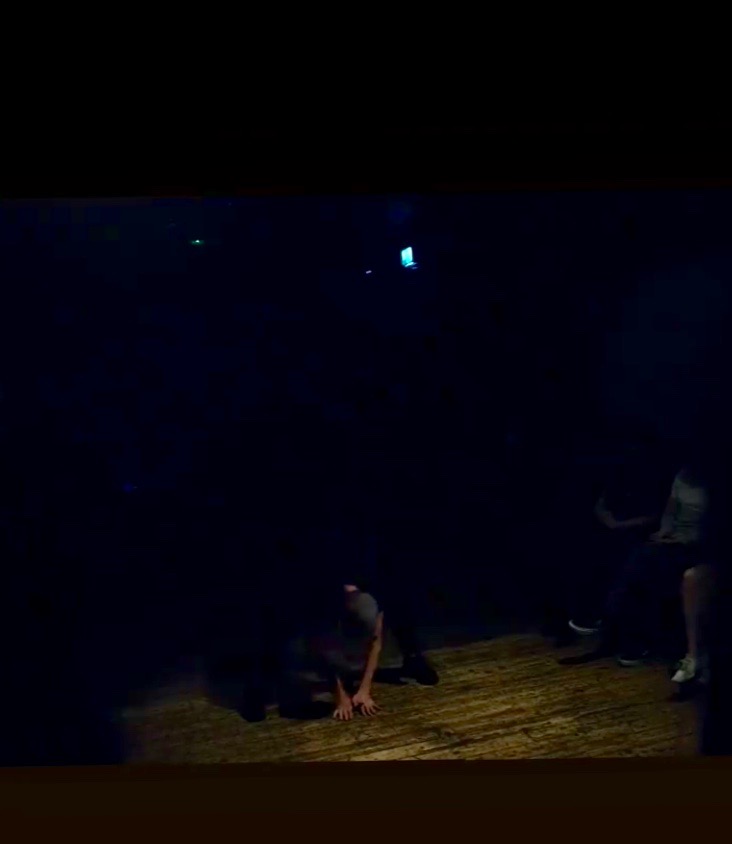 A few people asked me what I had been saying, and mentioned that they had recognised some of the letters. So essentially the system works. I never expected people to try and propoerly decode the performance- I can hardly decode it myself when watching back. But thats THE POINT- its a physical performance with an added layer of meaning if anyone wants to access that.
I had remembered to bring my postcards with me with the Alphabet code printed on them so people could follow along etc.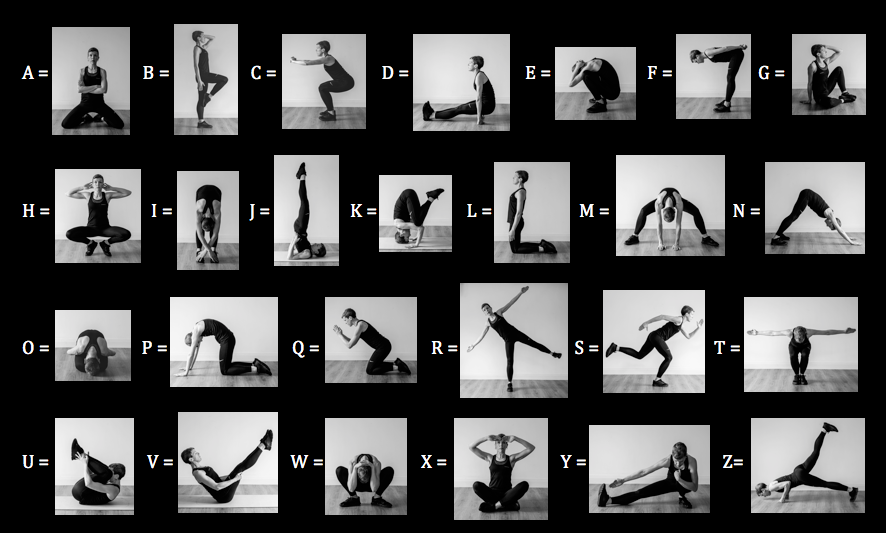 This worked well as people had something tangible in their hands to connect to the work. It made it connectable to, or simply added a layer to the piece, if someone wanted that. All in all the night was a very positive experience and I got to meet some other performance artists, importantly. Also the experience answered a number of key questions for me. 
How does it feel to perform in front of an intentional audience? It felt grand. I was prepared so this was the main thing. If id not been prepared I would have been shiting myself. It reminded me interestingly of kettlebell competitions, the pre performance adrenalin
Can I justify doing this and expecting people to watch me? As I have mentioned before, I have had problems equating value to these endevours and have been unable to stop myself from thinking that people will think its boring. Its my mindset that has to change here. And it is changing, slooowly
Can I be at peace with the fact that I am not there to be entertaining? See above answer. As Tara has said, 'you are not there to be entertaining' Depends on the situation also. Entertaining does not have to mean funny or fun for example.
Can I recognise this as a legitimate performance? I suppose its not not a performance, and there was an intentional audience which ticks that box. SO yes.
Can I lighten up a little and stop taking it all so seriously? Soon hopefully, soon..